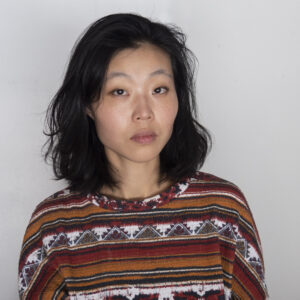 My work investigates the concept of "the other" and "the otherness" found in history, mythology, mass media, as well as in my own experiences of living across three different cultures: South Korea, Germany, and the USA. I utilize animation, performance, drawing, sculpture, and digital media to make tangible experiences of these investigations. Having grown up in a divided country, South Korea, the notion of "the other" is bound to the history of the Cold War and colonialism. The experience of being "the other" living in foreign countries taught me about racial discrimination, the societal structure, and the ideology that affects perceptions of another body. The experience of being a woman and an artist made me more aware of the stories of "the other" that are often unheard and forgotten.
Based on research and first-hand experiences, my work interweaves personal experiences with the collective narrative of history, mythology, and mass media, to create fictional worlds that show, distort, and challenge the relationships between them. These magical realist worlds explore the issues of cultural colonialism, alienation, and assimilation processes resulting from immigration and discrimination based on sex, gender, and economic status. Thus, my work ultimately brings the audience closer to these issues through the sensorial and intellectual engagement of the stories. 
---
Young Joo Lee is a multimedia artist from South Korea, currently living and working in Vancouver, Canada. She is an Assistant professor at the School for the Contemporary Arts at Simon Fraser University (on leave until Spring 2024). Lee was a College Fellow in Media Practice at Harvard University (2018-20), Macdowell fellow, a recipient of Fulbright Scholarship in Film & Digital Media (2015-18), and DAAD artist scholarship (2010-12). Lee holds an MFA in Sculpture at Yale University (2017) and an MFA in Film at the Academy of Fine Arts Städelschule Frankfurt (2013). 
CV [PDF]
Represented by OCHI Gallery
For any inquiries, please contact the gallery at GALLERY@OCHIGALLERY.COM