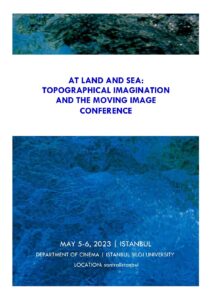 _________________________________________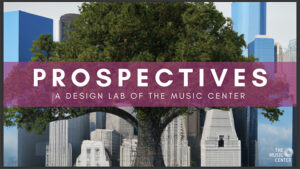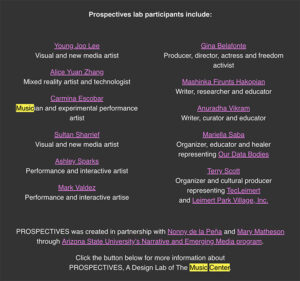 PROSPECTIVES, the six-day design lab, taking place from January 18 – 27, 2023, is engaging artists, technologists, grassroots organizers, and educators to envision a more just and joyous technological future for the city of Los Angeles.
_________________________________________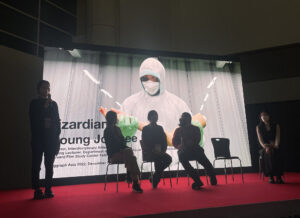 SIGGRAPH ASIA 2022 – DAEGU, South Korea
Dec 6-9, 2022
Lizardians was selected to be shown in the Art Gallery section of this conference on Computer Graphics and emerging technologies.
_________________________________________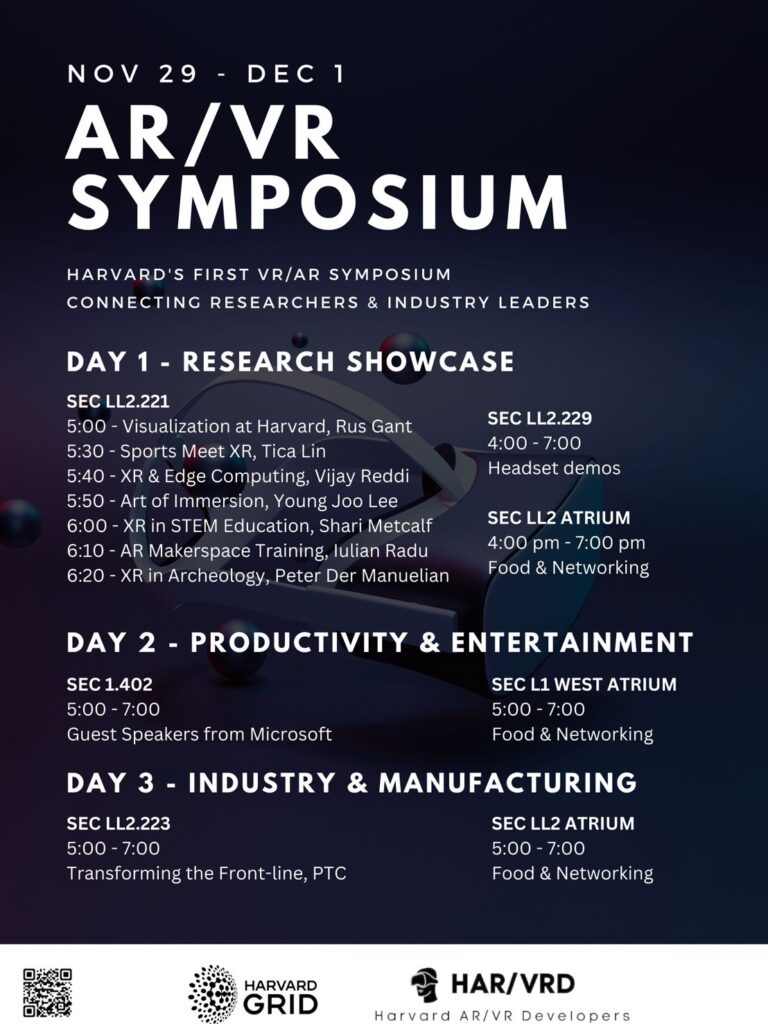 Harvard AR/VR Symposium Nov 29 – Dec 1, 2022
I presented my artwork and research as one of the speakers.
_________________________________________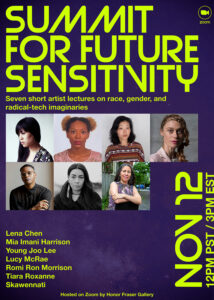 The Summit for Future Sensitivity brings together seven leading artists in the field of art and technology to present short lectures on creative research and radical-tech imaginaries. The Summit for Future Sensitivity is part of the gallery programming for FUTURE SENSITIVE, a solo exhibition by the filmmaker and body-architect, Lucy McRae.
Organized and hosted by Honor Fraser Gallery, Los Angeles
The Summit will be hosted on ZOOM Saturday, November 12 at 12PM PT.
_________________________________________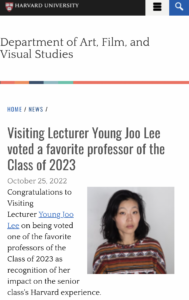 Humbled to be voted a favorite professor by Harvard's class 2023. I will be writing a letter for the Yearbook 387. It has been a great pleasure working with so many bright, talented students!
_________________________________________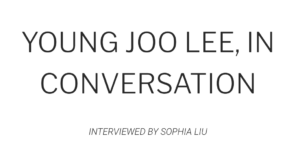 Surging Tide Mag
SPOTLIGHTING GENRE-DEFYING, INTERDISCPLINARY ARTISTS
Interview by Sophia Liu
_________________________________________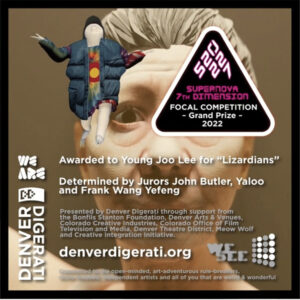 Supernova 7th Dimension, Digital animation festival presented by Denver Digerati
<Lizardians> won the Grand Prize in the Focal Competition!
_________________________________________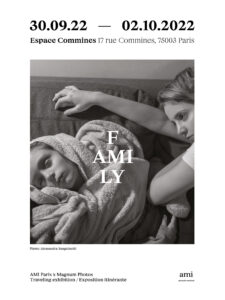 AMI + Magnum Photos commissioned animation installation piece, premiered on September 29, Espace Commines in Paris! The exhibition will next travel to Miami during the Art Basel Miami.
_________________________________________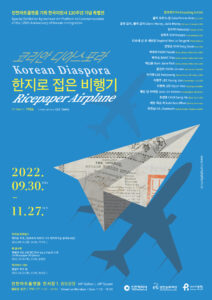 한지로 접은 비행기 Rice Paper Plane
– Artistic Director: LEE Taeho
– Paticipating Artists:
◦ Gala Porras-Kim (LA, USA)
◦ Glenn Morey, Julie Morey (Denver, Colorado, USA)
◦ Kimsooja (Seoul, Korea)
◦ KIM Heejoo (Connecticut, USA)
◦ Daphné Nan Le Sergent (Paris, France)
◦ MIN Yong Soon (LA, USA)
◦ PARK Yooah (Seoul, Korea / New York, USA)
◦ BAHC Yiso (Seoul, Korea / New York, USA)
◦ Nam June Paik (Seoul, Korea / New York, USA)
◦ YOON Jin-me (Vancouver, Canada)
◦ LEE Kakyoung (Brooklyn, USA)
◦ LEE Young Joo (Cambridge-LA, USA)
◦ LEE Hyun-Hee (Sydney, Australia)
◦ Jane Jin Kaisen (Copenhagen, Denmark)
◦ CHOI Sung Ho (New York, USA)
◦ kate-hers RHEE (Berlin, Germany)
◦ HA Jhonnam (Seoul, Korea / Nagano, Japan)
More Information
_________________________________________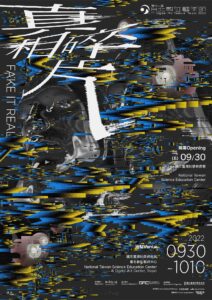 17th Digital Art Festival Taipei 2022 – Fake it Real
Guest Curator: Hsiang-Yun Huang
The Power of Revolt: Fake it Real
In 2022, Digital Art Festival Taipei—Fake it Real is exhibiting works that explore the processes of "information dissemination" and "production of truth" on the internet in a globalized, capitalist society. The works demonstrate acute understanding of and deep reflection about this society, tackling the following topics: the uncovering of the production of fake news, the creation of self-made fake news, the criticism of the relationship between digital tools and their effects on information reception and storage, and the creation of alternative algorithms different from that of existing social media. The exhibition attempts to resist against the current information structure and discover a new way to face the torrent of information. Full Curatorial Statement
_________________________________________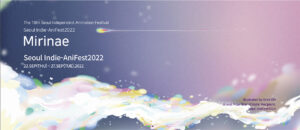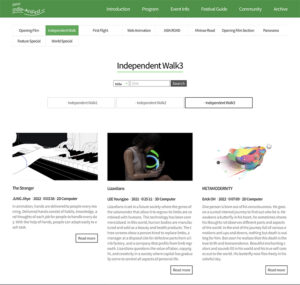 <Lizardians> Official selection at Seoul Indie Animation Festival 2022!
_________________________________________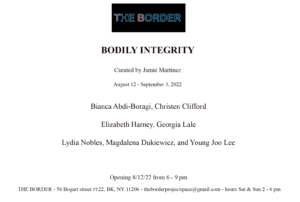 Bodily Integrity
August 12 – September 3, 2022
Border Project Space, NYC, USA
_________________________________________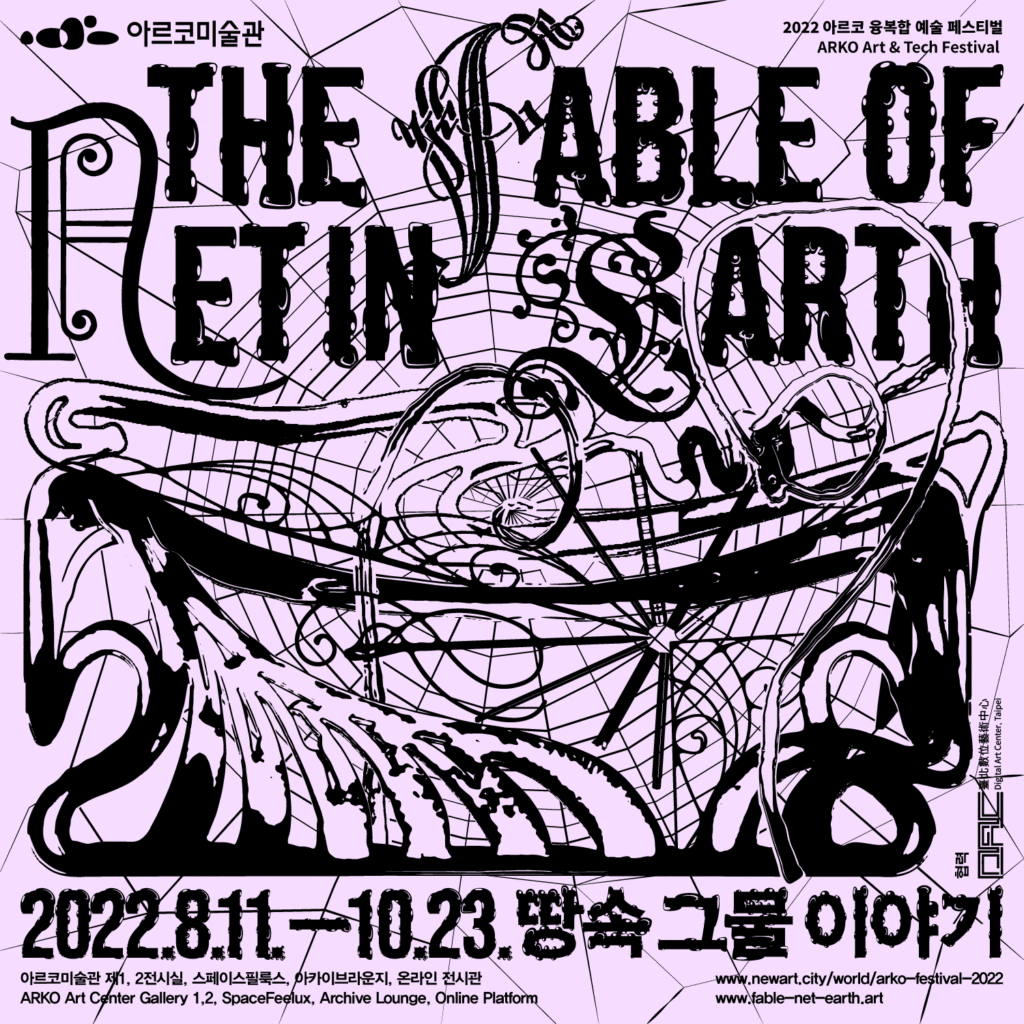 The Fable of Net in Earth
August 11 – October 23, 2022
ARKO Museum, Seoul, South Korea
_________________________________________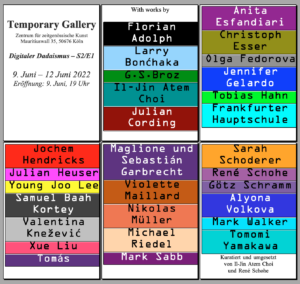 DIGITAL DADAISM – S2/E1
June 9 – June 19
Opening: June 9, 7 pm
Temporary Gallery
Centre for contemporary art
Mauritiuswall 35
50676 Cologne, Germany
Sat. June 11, 1pm
Lunchtime conversation on NFTs and cryptocurrencies
with Daniel Hug, director of art fair Art Cologne and artist-curators of the exhibition Il-Jin Atem Choi and René Schohe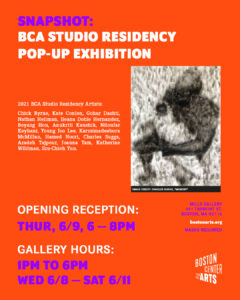 BCA Studio Residency Pop-up Exhibition
June 8 – June 11
Opening: June 9, 6 – 8 pm
Mills Gallery
551 Tremont St.
Boston, MA 02116, USA
---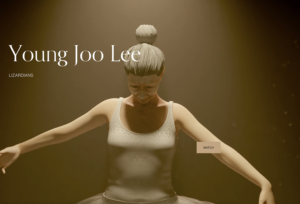 Lizardians is featured in the Hennepien Review in their April 2022 issue.
---
Lizardians was officially selected at the TRICKY WOMEN/TRICKY REALITIES festival (International Competition), GLAS animation festival (US Competition), and Athens International Film&Video Festival!
TRICKY WOMEN/TRICKY REALITIES festival **International Competition
https://www.trickywomen.at/en/festival/12
The festival will take place in a hybrid form in Vienna, Austria, and online from March 9th – 13th.
Athens International Film&Video Festival
http://athensfilmfest.org/
The festival will take place in person in Athens, Ohio, USA from April 1-7th.
GLAS animation festival **US Competition
https://www.glasanimation.com/
The festival will take place online from April 6th – 10th.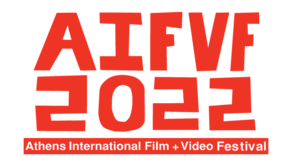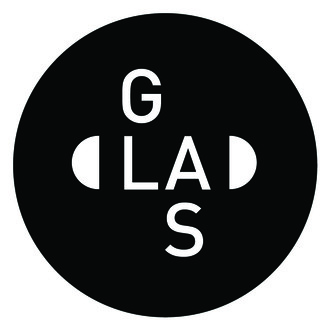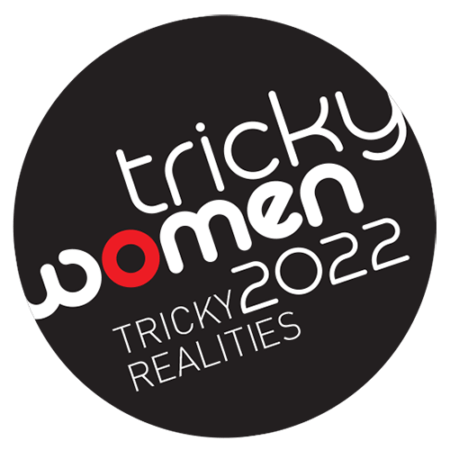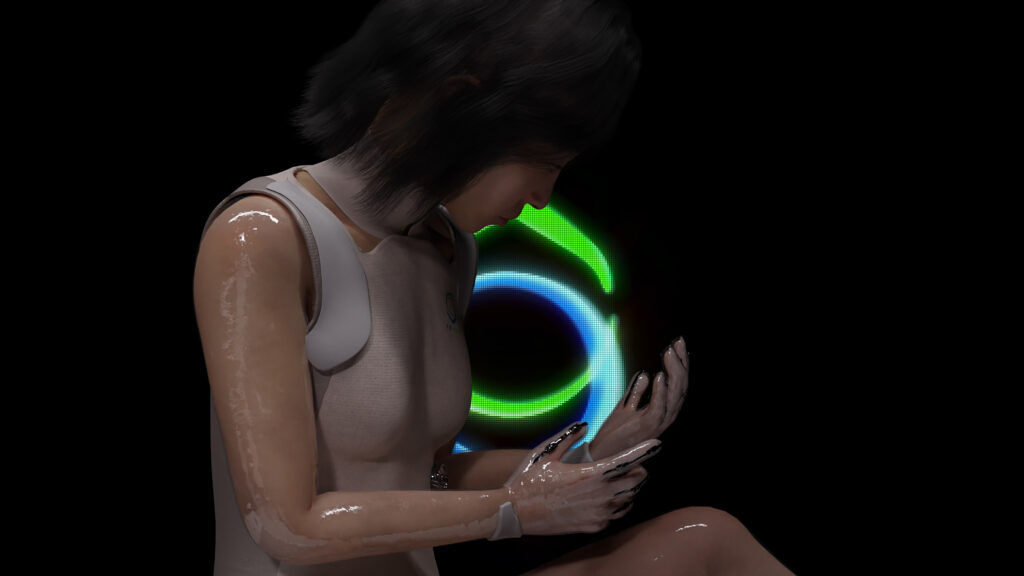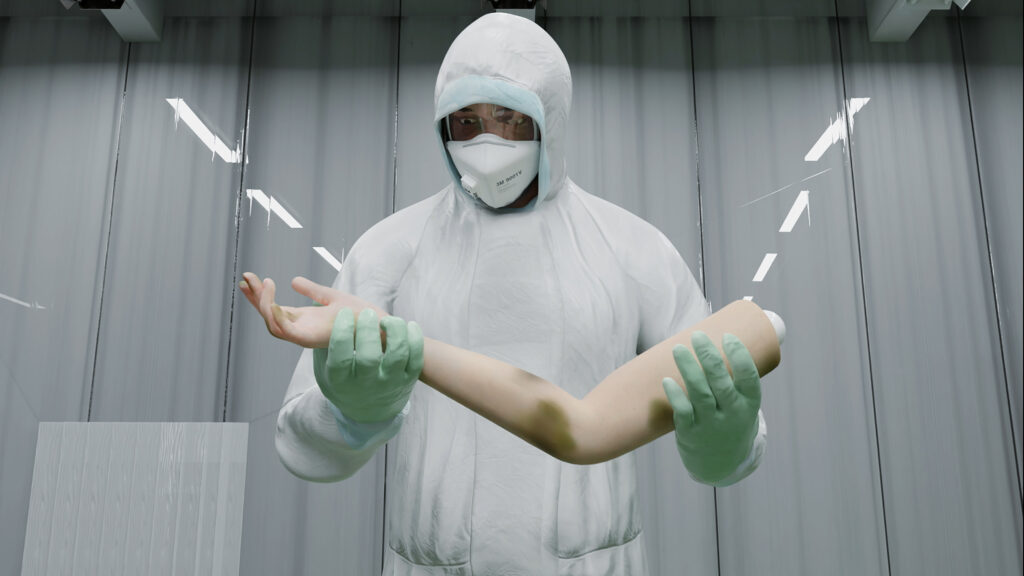 ---
Tiger Lives Traveling Exhibition in Kim Hong Do Museum of Art (Danwon Art Museum)
https://danwon.ansanart.com/
March 25 – May 22, 2022

---
Harvard College in Asia Program – The Art of Innovation: Exploring the Future and Impact of Arts, Culture, and Media
Panel with Amy Smeed and Jeffrey Schnapp. Moderated by Jolin Chan – January 18, 2022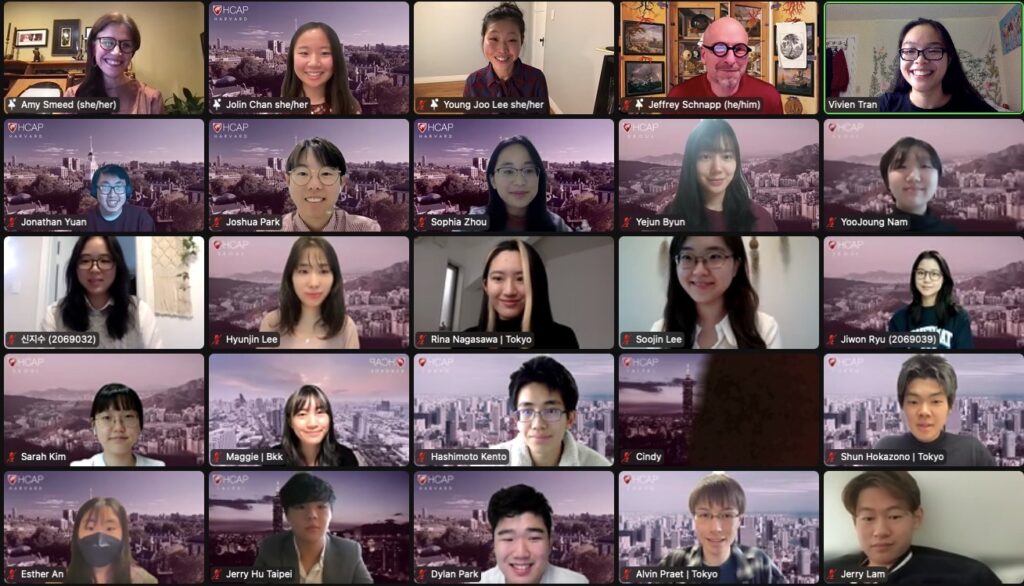 ---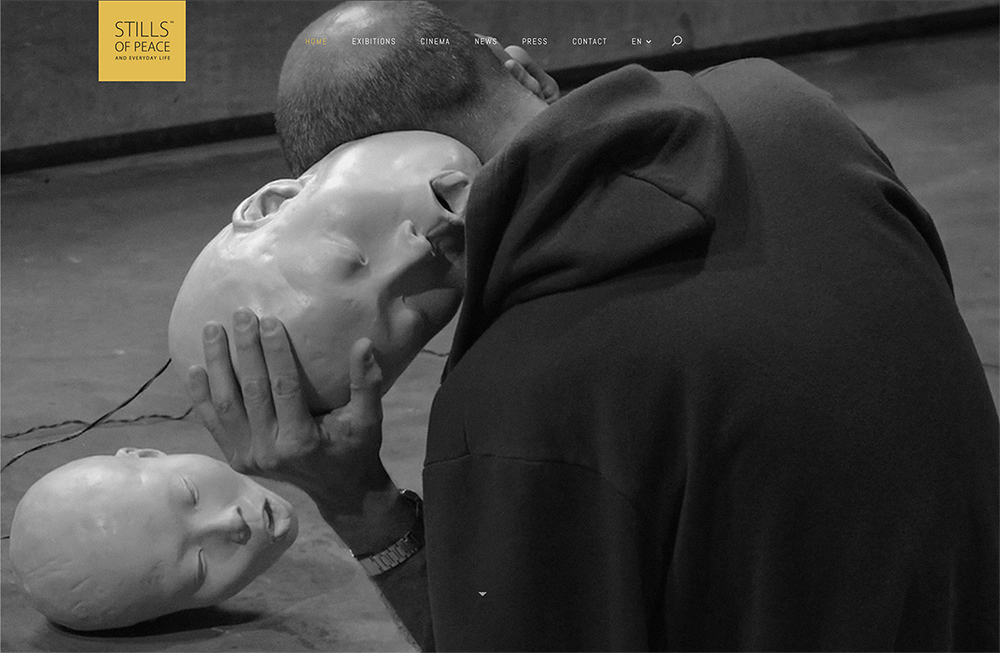 STILLS OF PEACE
AND EVERYDAY LIFE ED.VIII
ITALY AND SOUTH KOREA:
A RESEARCH OF THE SENSE OF CONTEMPORANEITY
JULY 4 – AUGUST 22, 2021 / ATRI (TE)
https://www.stillsofpeace.com/en/home_eng/
MUSEO ARCHEOLOGICO – ATRI
PER FUMUM / THROUGH THE SMOKE
Seo Young Chang, Yun Choi / Minhwi Lee, T-Yong Chung, Soko Hwang, Geumhyung Jeong, Eemyun Kang, OH You Kyeong, Young Joo Lee, Kim Myeongbeom
Curated by Eva Comuzzi
---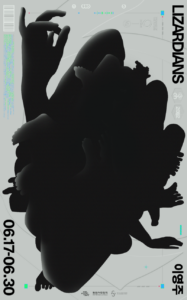 리자디언들
기간: 2021년 6월 17일 – 6월 30일
관람시간: 오후 1시-7시 (휴무일 없음)
장소: 탈영역우정국 – 서울 마포구 독막로 20길 42
후원: 서울문화재단 / 하버드영화연구센터
협력: 탈영역우정국
디자인: 이재진
'리자디언들'은 3-채널 애니메이션으로 도룡뇽의 사지 재생 유전자를 인간과 합성한 기술이 상용화된 미래 사회를 배경으로 한다. 이곳에서 인간의 몸은 미용 혹은 건강 증진 제품으로 제조되고 판매된다. 세 개의 화면들은 각각 자신의 팔다리를 재생하기 위해 고용된 사람, 사지 재생 공장의 불량품 폐기 관리자, 그리고 사지 재생으로 이윤을 창출하는 기업을 나타낸다. 이를 통해 '리자디언들'은 자본이 점차 개인의 삶의 모든 영역을 제어하는 사회에서의 노동의 가치, 저작권 그리고 창의성에 대한 질문을 던진다.
상영 정보: 본 영상은 스토리의 흐름을 이해하기 위해 작품 상영 시간에 맞춰 오기를 권장합니다. 
상영시간: 13:00 / 13:30 / 14:00 / 14:30 / 15:00 / 15:30 / 16:00 / 16:30 / 17:00 / 17:30 / 18:00 / 18:30  
——————————————————————–
Lizardians
June 17 – June 30, 2021
Opening hours: 1 – 7pm
Location: Post Territory Ujeongguk – 42 Dokmackro20-gil, Mapogu, Seoul
Sponsor: Seoul Foundation for the Arts and Culture / Harvard Film Study Center Fellowship
Partnership: Post Territory Ujeongguk
Design: Jae Jin Lee
Lizardians is a three-channel 3-D animation that depicts a world in the near future, in which a technology that applies the axolotl salamander's genetic powers of regeneration to the human body has been commercialized for mass consumption. Human body parts are produced and sold as health and beauty products by a biotech corporation, RENEW. The first channel shows the reality of a worker whose job is to regenerate her body parts in isolation, the middle channel stands for the corporation itself, and the third channel shows the reality of a worker who takes care of the defective limb products. Lizardians is a story which questions the value of labor, authorship and creativity in a world that is controlled by a capitalistic system.
It was quite challenging to make this film during the time of COVID. I am infinitely grateful to everyone who gave a piece of them to complete this piece. Also, a big thanks to Seoul Foundation for the Arts and Culture and Harvard Film Study Center Fellowship for making this work possible.
Note on the screening time: The film will be screened at every hour and every half hour.
Screening time: 13:00 / 13:30 / 14:00 / 14:30 / 15:00 / 15:30 / 16:00 / 16:30 / 17:00 / 17:30 / 18:00 / 18:30 
---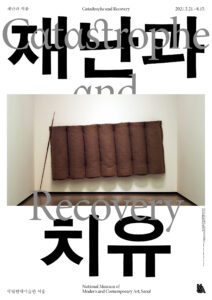 Catastrophe and Recovery
May 21 – August 15, 2021
National Museum of Modern and Contemporary Art, Seoul
---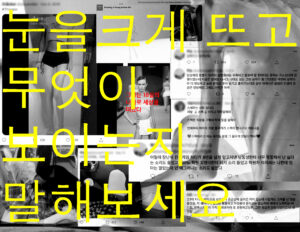 중개된 몸 – 컨트롤 된 몸이 우리를 컨트롤 한다 Mediated Body – When our control over body starts controlling us
*There is currently no English version.
한국어 – 웹진 세미나
Korean – published on Web journal SEMINAR 
---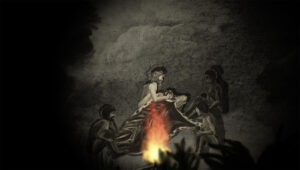 We are never going to be the same
April 13 – May 11, 2021
Ochi Projects LA
Online Exhibition
---
레퓨지아 REFUGIA: Sound Projects by 11 Women Artists
Feb 17th – Mar 14th, 2021
Online exhibition link: http://www.refugia.kr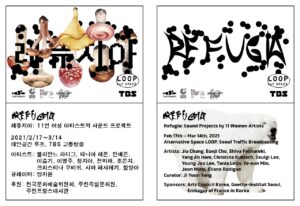 <한국어 설명은 아래를 참고해 주세요>
Refugia is a public art project involving 11 women artists from around the world. The word refugium refers, in population biology, to a location of a relict population of animal or plant species, where abrupt climate change has led to dwindling populations if not near-extinction.
Refugia questions how our current COVID world is related to human civilization, and by extension critiques capitalist systems founded on patriarchal structures. These eleven artists imagine and propose different ways through which we may reach beyond capital towards the feminine and to technologies that prioritize coexistence and sustainability. All eleven artists engage with ecology and our current global crisis.
Due to current safety restrictions affecting offline exhibitions, Refugia will be made accessible through different platforms. Visitors can visit the venue, Alternative Space LOOP, following social distancing guidelines, access the online exhibition from wherever they may be, or follow the public radio broadcasts on TBS Radio.
To say today's sound culture has been overtaken by popular music as a culture industry would not be an overstatement. Sound art may be a new or unfamiliar concept to many listeners, but we hope this experience will provoke and encourage critical reflection and help foster a complex, multilayered sound culture.
Reservation
To prevent the spread of Covid-19, the exhibition is divided into 4 sessions at 11:00/13:00/15:00/17:00 everyday.
Admission is possible for up to 4 people per session. Please make a reservation for viewing.
Link: https://booking.naver.com/booking/12/bizes/404506/items/3786839
Online exhibition (available throughout the exhibition)
www.refugia.kr
Information
Refugia: Sound Projects by 11 Women Artists
Feb 17th – Mar 14th, 2021
Artists: Jia Chang, Eunji Cho, Shiva Feshareki, Yang Ah Ham, Jeon Mirai, Christina Kubisch, Seulgi Lee, Young Joo Lee, Tania León, Ye-eun Min, Éliane Radigue
Curator: Ji Yoon Yang
Organized by Seoul Traffic Broadcasting, Sound Art Korea
Presented by Alternative Space LOOP, Seoul Traffic Broadcasting, Sound Art Korea
Sponsorship from Arts Council Korea, Goethe Institut Seoul, Cultural service of the French Embassy in Korea
ALT SPACE LOOP
20 Wausan-ro, 29 Na-gil
Mapo-gu, Seoul Korea
+82 2 3141 1377
altspaceloop.com
---
TBS교통방송과 함께하는 공공미술 프로젝트 <레퓨지아>에 초대합니다.
<레퓨지아>는 전세계에서 여성 아티스트 11인이 참여합니다. 전시 제목 <레퓨지아>는 집단생물학 용어입니다. 멸종 위기의 동식물이 살고 있는 마지막 남은 공간을 말합니다. <레퓨지아>는 지금 우리가 겪고있는 코로나 세계가 우리의  문명과 어떤 관계를 갖는지 질문합니다. 가부장제에 기반한 자본주의 문명에 대한 질문이라고 말할 수 있습니다.
'자본 너머 – 가부장제 너머 – 공생과 지속의 테크놀로지'는 어떻게 가능할까요? 예술가들은 상상합니다.
오래전부터 참여 아티스트는 각자의 방식으로  생태와 인간의 위기에 관한 작업을 진행해 왔습니다. 파리의 엘리안느 라디그, 뉴욕의 타니아 레온 그리고 베를린의 크리스티나 쿠비쉬의 작업들은 사운드 아트 역사에서 매우 중요한 작업이기도 합니다.
전통적 방식의 전시 관람이 현실적으로 불가능한 지금, 세 가지 관람 방식을 마련했습니다. 첫째는 방역과 사회적 거리두기를 이행하는 대안공간 루프에서 관람 방식입니다. 둘째는 어디서나 접속 가능한 온라인 관람 방식입니다. 세번째는 TBS 교통방송 라디오를 통한 관람 방식입니다.
현재 우리의 청각 문화는 사실상 문화 산업으로서 대중 음악이 장악하고 있다고 말해도 지나치지 않을 것입니다. 사운드 아트라는 예술 형식이 생소하실 수 있지만, 우리의 새로운 청각 문화를 꾸려나가는 데 좋은 자극이  되었으면 하는 바람입니다.
전시 관람 예약 안내
코로나19 확산 방지를 위해 11시/13시/15시/17시 4회차에 나누어 진행됩니다. 전시에 관한 소개를 함께 해드릴 계획입니다.
회차당  최대 4인까지 입장이 가능합니다. 관람을 위해 사전 예약을 부탁드립니다.
네이버 예약 링크: https://booking.naver.com/booking/12/bizes/404506/items/3786839
전시기간 중 온라인 전시
레퓨지아 전시사이트 www.refugia.kr
전시 개요
전시명: 레퓨지아
참여작가: 엘리안느 라디그, 타니아 레온, 민예은, 이슬기, 이영주, 장지아, 전미래, 조은지, 크리스티나 쿠비쉬, 시바 페샤레키, 함양아
전시기간: 2021년 2월 17일(수) – 3월 14일(일) / 삼일절 휴무
전시장소: 대안공간 루프
방송매체: TBS 라디오, TBS TV
관람시간: 11시/13시/15시/17시 1일 4회차 최대 4인 예약 관람
예약링크: https://booking.naver.com/booking/12/bizes/404506/items/3786839
주최: TBS 교통방송, 사운드 아트 코리아
주관: TBS 교통방송, 사운드 아트 코리아, 대안공간 루프
후원: 한국문화예술위원회, 주한독일문화원, 주한프랑스대사관
---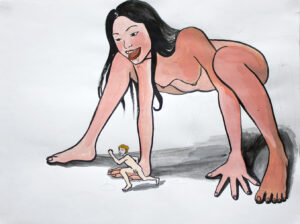 February 14–March 14, 2021
Online exhibition
Gallery Perchée is pleased to present Sexy Sex, a dyonosian, poetic, and uncanny celebration of desire explored by contemporary artists through sculpture, photography, painting, video, and writing.
At a time of chaos, loss, isolation and disconnection, how do artists preserve the vital feeling and memory of love, desire, pleasure, lust, happiness and ecstasy? These artworks grasp, recall and collect relics of these sensations, emphasizing the quintessential power of the erotic, celebrating the sharing of joy beyond memory, distance and difference, and offer the empowering creative energy, humor and harmony of the erotic and romantic.
This exhibition features the work of Bianca Abdi-Boragi, Selva Aparicio, Lex Brown, Dominic Chambers, Derek Des Islets, Tim Enthoven, Samantha Franklin, Katya Grokhovsky, Isaac Soh Fujita Howell, Icinori, Alex Jackson, Nicole Kaack, Bonam Kim, Sarah Lasley, Young Joo Lee, Virginia Lee Montgomery, Jenny Sayako Nono, Catalina Ouyang, Res, Douglas Rieger, Shavana Smiley, Masha Vlasova, Ye Wang, Erica Wessmann, Nelly Zagury.
---

지워진 얼굴들 Effaced Faces
2020. 2. 7 – 2020. 2. 27
12:00 pm – 7:00 pm
월요일 휴관
온수공간 ( 서울 마포구 월드컵북로1길 74)
https://www.onsu-gonggan.com/
참여작가
김동령  / 박론디 / 이영주 / 제인 진 카이젠
기획
이은수
지워진 얼굴들은 분단 이후 여성들의 서사와 그 기록에 관한 것이다. 전쟁과 그 이후의 삶에 대한 공식적인 역사는 남성 주체의 저항과 승리의 과정으로 기록된다. 여기에서 여성들은 비가시성의 영역에 머무르거나, 가치판단이 부여된 상징으로 왜곡, 축소되며 대중에게 일관된 감정을 일으키기 위해 반복 재현된다. 본 전시는 기존의 역사쓰기에서 남성 주체의 자리를 여성 주체로 대체하는 것을 거부하는 동시에 그 불가능성을 인지하며, 역사를 구성하지만 동시에 개별자인 여성과 마주하고, 그들과 대화하고, 그들을 상상한다. 과거와 현재, 그리고 과거를 살아왔으며 현재에 존재하는 여성들의 부유하는 기억들을 작품 속 각각의 언어로 들으면서 관람객은 현재 자신의 삶에 대해서 재인식하고 역사 속에서 새로이 자신의 자리를 모색할 수 있을 것이다.
주최: 한국문화예술위원회
주관: 한국예술창작아카데미
후원: Danish Arts Foundation
Effaced Faces
Feb 7 2020 – Feb 27 2020
12:00 pm – 7:00 pm
closed on Mondays
Space Onsu  ( 74, Worldcup buk-ro 1gil, Mapo-Gu, Seoul)
Participating Artists
Dongryung Kim / Rondy Park / Youngjoo Lee / Jane Jin Kaisen
Curated by
Eunsoo Yi
Effaced Faces is about the history and the documentation of women after Korea War. While official history of the war is being written as a story of resistance and the victory of male subjects, women either remained in the realm of invisibility or repeatedly represented as an image reduced to mere victims or sexual objects. The exhibition, instead of replacing male subjects with females, tries to face, communicate, and imagine women as individual agencies. While listening women's memory through their words, visitors are invited to recognize their current conditions, and relocate their place in the history.
Organized and Supported by
Arts Council Korea / ARKO Creative Academy
Supported by
Danish Arts Foundation
---
Thursday, November 14, 2019 – January 5, 2020
6–8pm
The Drawing Center
35 Wooster Street
Wasteland marks the fifth iteration of Open Sessions, a six-part exhibition program presented between October 2018 and January 2020 at The Drawing Center. Organized by curators Rosario Güiraldes and Lisa Sigal, Open Sessions fosters a dynamic, ever-evolving dialogue with new drawing practices and practitioners, exhibiting and contextualizing the work of early career artists who explore the nature of drawing in its many manifestations through conversation, public programs, and thematic group exhibitions.
Featuring works by Esteban Cabeza de Baca, Crystal Z Campbell, Theodore Darst, Jonathan Ehrenberg, Young Joo Lee, Omid Shekari, and Tariku Shiferaw, Wasteland explores the psychological and physiological impact of our increasingly digitized world through unconventional drawing practices.
---
---
---
WomenCinemakers Biennial 2019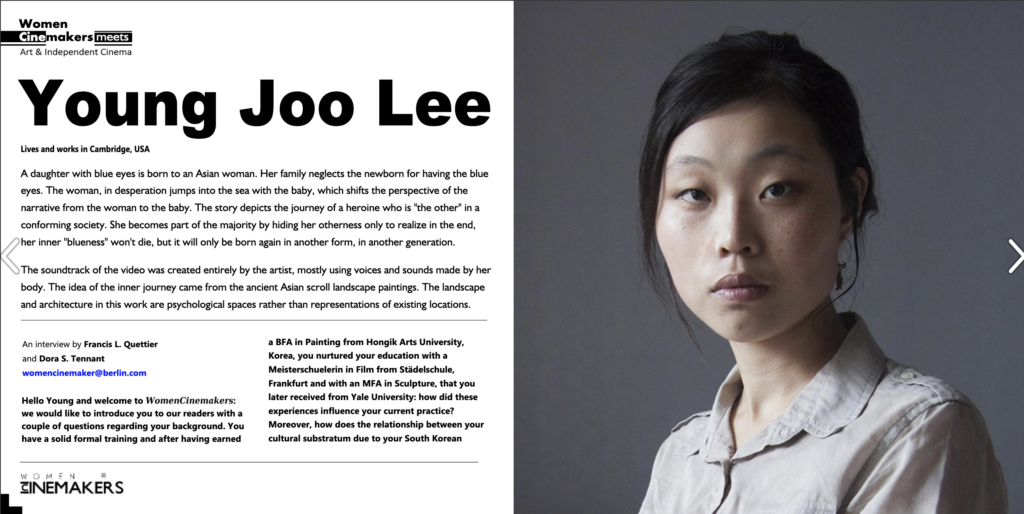 https://issuu.com/womencinemakers_review/docs/special.edition/156
(p.156 – 183)
---
Tuesday, April 9, 6:30pm in War Room 111
Harvard Graduate School of Design, 48 Quincy Street, Cambridge, MA 02138
Korea GSD is pleased to present three Harvard College Fellows in Media Practice: Sohin Hwang (Visual and Environmental Studies), Young Joo Lee (Theater, Dance & Media), and Margaret Rhee (English). The speakers will discuss their artistic practice through the lens of media, mobility, and identity politics, followed by a panel discussion moderated by Jungmin Lee.
Speakers:
"From Resisting Technology to Vitality at Edges"
Sohin Hwang, Harvard College Fellow in Media Practice, Department of Visual and Environmental Studies
Sohin Hwang is an artist and writer working on issues around art, technology, and society. Her recent project involves performance art and cybernetics in the mid 20th century with an attention to materiality, producer-audience relationship, and publics formation. Her writing and artworks have been presented in research institutions and experimental journals. She recently finished a doctoral degree at the University of Oxford as a Clarendon Scholar. She enjoys imaginary gardening.
"Multiple Selves and The Cyclical Narrative"
Young Joo Lee, Harvard College Fellow in Media Practice, Department of Theater, Dance & Media
Young Joo Lee is an artist based in Cambridge and Los Angeles. She combines the inspirations from her dreams with personal and political histories to create drawings, sculptures, animation and films. Lee studied painting at Hong-ik Arts University ('09 BFA), film at Städelschule Frankfurt and sculpture ('17 MFA) at Yale University. Recent solo exhibitions of Lee's work have been presented at the Alternative Space Loop- Seoul and Ochi Projects- Los Angeles.
"The Kimchi Poetry Machine"
Margaret Rhee, Harvard College Fellow in Media Practice, Department of English
Margaret Rhee is the author of Love, Robot, named a 2017 Best Book of Poetry by Entropy Magazine and the 2019 Book Prize in Poetry by the Asian American Studies Association. Her project The Kimchi Poetry Machine is exhibited at the Electronic Literature Collection Volume III. She received her Ph.D. from UC Berkeley in ethnic and new media studies and her BA in English from the University of Southern California. She is a College Fellow in Digital Practice in the English Department at Harvard University and Assistant Professor in the Department of Media Study at SUNY Buffalo.
Moderator: 
Jungmin Lee, Research Fellow and Doctoral Graduate in Film and Visual Studies at Harvard University
Jungmin Lee has recently taught at the University of Massachusetts Boston and has been serving as a guest lecturer and critic in MDes ADPD at the Harvard GSD. In her research, she examines the relations between cinema and kinetic arts in the avant-garde and the rise of cybernetics. Jungmin has further worked in the curatorial department at the Pompidou Center, Museum of Modern Art in France, the EYE Film Instituut in the Netherlands, and the Harvard Art Museums.
*This event is co-convened by Korea GSD student group and Youngjin Song, an Irving Innovation Fellow in the Arts at Harvard Graduate School of Design.
---

Masterclass at Harvard University – Theater, Dance and Media
https://tdm.fas.harvard.edu/event/tdm-master-class-young-joo-lee
---

6th Amado Exhibition Award
Opening: 21st March, 6.00pm
Exhibition Period: 21st March-19th April / Tuesday-Sunday / 12.00pm-7.00pm / Closed on Monday
Curator: Yu-bin Kim
Participating Artists: Sangwoo Kang, Roh Hyuntark, Shin Jung-Kyun, Young Joo Lee
Venue: Amado Art Space (683-31, Hannam-dong, Yongsan-gu, Seoul, Korea)
---
---
Totenpass – Visitor Welcome Center, LA
October 27 – November 10, 2018
http://visitorwelcomecenter.org/totenpass.html
---
Review by Andy Campbell in ArtForum International- October 2018 Print edition
https://www.artforum.com/print/reviews/201808/young-joo-lee-76797
---
Young Joo Lee
Alternative Space Loop, Seoul
Opening reception: July 31st
July 31 – August 26, 2018
http://altspaceloop.com/exhibitions/shangri-la
---
THROUGH-LINE:
DRAWING & WEAVING BY 19 ARTISTS
Opening reception: July 21, 7-9pm
http://steveturner.la/exhibition/through-line-drawing-weaving-by-18-artists
---
Review of MINE at Ochi Projects – Los Angeles Times
http://www.latimes.com/entertainment/arts/la-et-cm-young-joo-lee-review-20180707-story.html
---
Review of MINE at Ochi Projects – What's on Los Angeles
July 12, 2018
http://whatsonlosangeles.com/pick.html
---
Young Joo Lee
Ochi Projects, Los Angeles
June 23 – July 21, 2018
Opening reception: June 23rd, 5-8pm
https://www.ochiprojects.com/
---
Echo Park Film Center Los Angeles
MY NAME IS PA-YUN: AN ANIMATED DOCUMENTARY
THURSDAY, MAY 24 at 8 PM
Doors 7:30 pm; $5 admission
"My name is Pa-Yun  is an animated documentary about a man who escaped North Korea before the Korean War. His childhood to adolescence was affected by Japanese colonialism, the Russian invasion, the rise of the dictatorship in North Korea and then the Korean War. He left his troublesome memories in the Korean peninsula and he has been living in the United States for the past 60 years. The interview takes him and myself to his childhood home in Pyongyang. We travel back in time to witness the political shift in the Korean peninsula and the changes in the lives of people." — Young Joo Lee
Also screening is Disgraceful Blue (10 min 24, digital animation)
"Making of Disgraceful Blue started from my interpretation of the dreams I had and editing them to create an allegorical story about an Asian woman giving birth to a daughter with blue eyes. The story depicts the journey of a heroine, being "the other" in a conforming society. She becomes part of the majority by hiding her otherness only to realise that in the end her inner "blueness" doesn't die, because it will only be born again as another form, in another generation."
CHOREOGRAPHY OF THE INANIMATE: A 3D ANIMATION WORKSHOP
http://www.echoparkfilmcenter.org/events/choreography-of-the-inanimate-a-3d-animation-workshop-with-young-joo-lee/
2 SESSIONS: May 22 and May 23, 7 – 9 PM
Are you familiar with 3-D animation? This workshop is to combine the 3-D scanning technology with animation to make a simple but unique animation. In the first session, we will watch some examples of 3-D scanned animated objects. Then we will learn how to 3-D scan an object or a sculpture using Kinect hardware and Skanect software. In the second session, we will animate the 3-D object using Blender to create a short animation. Prior knowledge of Blender or other 3-D modeling software is helpful but not necessary.
---
Uncertain Times: Borders, Refuge, Community, Nationhood
55th SPE Annual Conference / 23rd ANNUAL SPE WOMEN'S FILM & VIDEO FESTIVAL
Downtown Marriott Hotel, Philadelphia, USA
March 1-4, 2018
---
Interdisciplinary Art Festival Tokyo 2018
KOGANEI ART SPOT, Tokyo, Japan
March 16th – 25th