Exhibition Brochure – 탈영역 우정국 Post Territory Ujeongguk, Seoul, Korea
Siggraph Asia 2022, Art Gallery, Daejeon, South Korea (upcoming- December 2022)
Supernova 7th Dimension Digital Animation Festival 2022, Focal Competition Grand Prize, Denver, CO, USA
Seoul Indie Animation Festival, Independent Walk, Seoul, South Korea
DAFT × A&T Festival, Taiwan & Korea Video Exchange Festival, Taipei, Taiwan
Athens International Film & Video Festival 2021, Athens, OH, USA
GLAS Animation Festival 2021, US Competition, Online
Tricky Women/Tricky Realities Animation Festival 2021, Competition 5, Vienna, Austria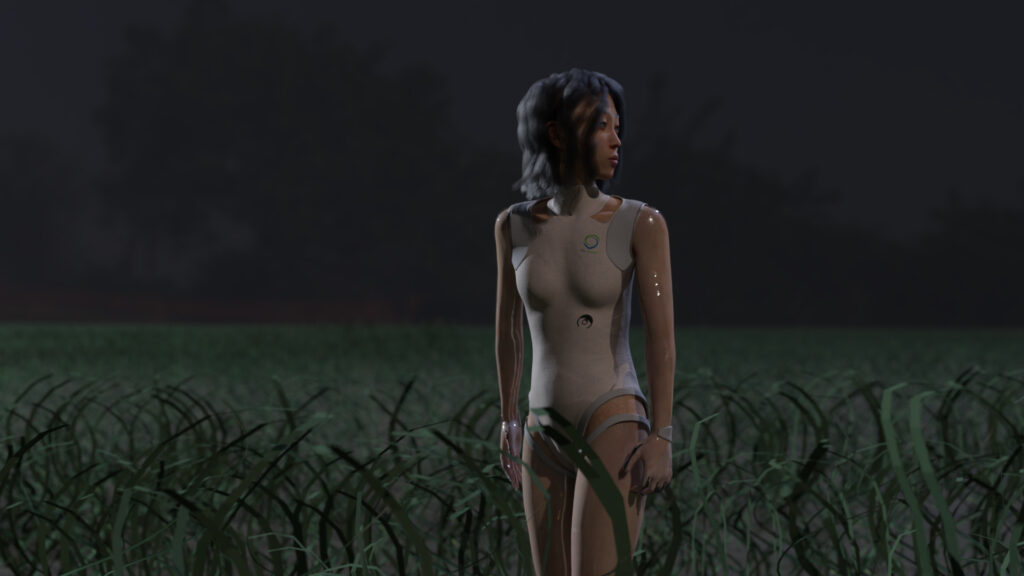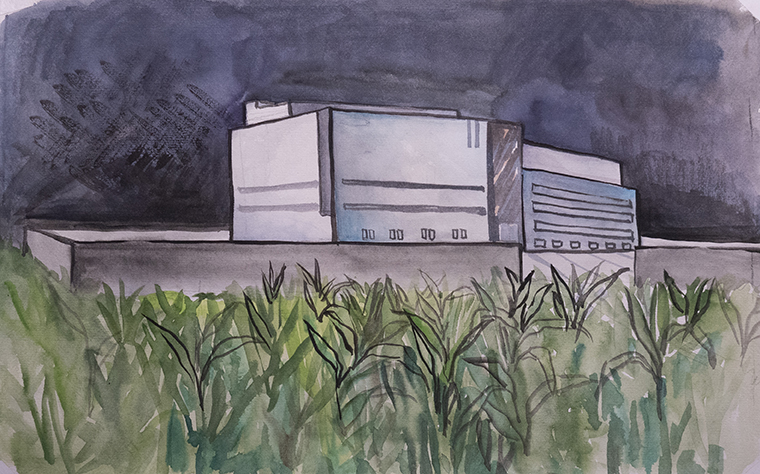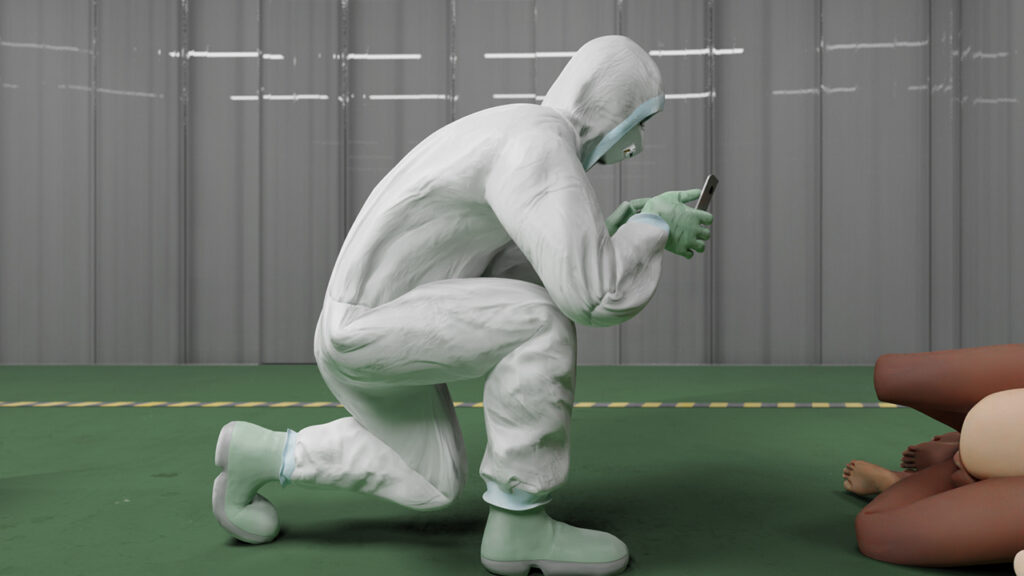 Lizardians, 2021
3-channel 3-D animated short, 24:47
Single-channel duration: 25:12
Lizardians is a 3-D animation short that depicts a reality in which a technology that applies the axolotl salamander's genetic powers of regeneration to the human body has been commercialized for mass consumption. Beyond neoliberalism and cognitive capitalism, Lizardians is set in a biocapitalist factory where conflict arises between protagonists from different classes as they question the value of labor, creativity, agency, and authorship. Each of the three channels embodies part of the story, like limbs to a whole: a regenerator (Lizardian), a janitor, and the RENEW corporation itself. Shelby endures pain, immobility, and isolation in order to perform her job of regrowing her limbs, while Caleb works in the disposal department of the factory and in his spare time salvages defective human limbs to make art. As he develops a following on social media and begins to sell artwork made of company property, RENEW intervenes. Shelby and Caleb's synchronous yet contrasting lives unfold separately until all three channels merge as they meet at the opening reception of Caleb's exhibition featuring sculptures made with some of Shelby's body parts.
Lizardians was conceptualized after encountering international media coverage of two incidents that occurred in quick succession in 2010—a series of employee suicides at the Foxconn factory and industrial park in Shenzhen, China and revelations that workers in the semiconductor industry had been diagnosed with or died from nonhereditary maladies and rare illnesses including miscarriages, heart disease, and cancer in South Korea since the mid 1990s. At the time, Taiwanese multinational contract manufacturer Foxconn was the largest producer of electronic parts for global corporations such as Apple, HP, Blackberry, and Nokia, producing parts for smartphones, computers, and other ubiquitous electronic devices used around the world daily. Many of its workers relocate from rural areas to Shenzhen at a young age to make money to support their families back home. Working notoriously long hours doing tedious labor for low wages, Foxconn workers suffer from the physically demanding work and the psychological distress of living far from family and friends. Samsung, one of the major semiconductor manufacturing companies in South Korea, was also at the center of controversy, disputing the connection between factory working conditions and their employees' health problems—though the company officially apologized to the family of Hwang Yu-Mi 11 years after she died of leukemia at age 22. 
There are similarities in the unethical operations of global corporations such as these that include the exploitation and casual disregard for human life. When challenged, these companies simply moved their factories to less regulated Southeast Asian locations, where similar problems continue to occur. As customers and consumers, we are not given access to the stories of those who produce the goods we use. The shiny and slick surfaces of these electronics sold in similarly shiny and slick stores are designed to make us forget the hands that made the parts and assembled our devices. What if the products for sale resembled the individual workers' physical appearances? How would a worker feel to see the result of that labor for sale, detached from their own body? Through Lizardians, the power relationship between an individual and a corporation is given shape and the moral responsibilities of living in a world increasingly dominated by corporations comes into question. 
As the narrative of Lizardians progresses, Caleb  temporarily escapes his reality through the use of social media. Reflecting upon the ways in which we engage with artworks and each other through corporate controlled digital platforms such as Instagram, all art and experience is transformed into small, flat images. This psychological distance has the power to reframe even the most gruesome human limb sculptures as exotic yet digestible pixels intended for short attention spans. As the distance from the reality and context of an object grows, our understanding of both objects and reality becomes abstracted—distorted, simplified, and beautified—and over time our perceptions become so numb that we seek out new and more outrageous filters. Towards the end of the video, as one protagonist destroys the sculptures, the lens of social media is momentarily shattered along with  its all powerful beautifying filter and for a brief moment, perception opens to reality.
Director / Writer/ Producer – Young Joo Lee
Storyboard – Young Joo Lee
CAST
Shelby – Young Joo Lee
Caleb – Kayodè Soyemi
Older Ballerina – Ellen Press
Monica, Gallerist – Dina M.Selimovic
Collector – Brandon Keeton
Factory Worker 1 – Joe Bagtas
Factory Worker 2 – Mack Kuhr
Factory Dorm Mate – Dan Chen
Homeless Woman – Melissa Chambers
Information Desk Employee – Madison Crawford
Curator – Kasey McNulty
Gallery Visitor – Brianne Buishas
Gallery Assistant – Lindsey Wilson
VOICE in the factory – Lindsey Wilson
Shelby's sister – Ava Wyant
Recruitment Office Person – Brandon Robinson
Production
Lead 3D animation – Edgar Romero
3D animation – Bertrand Flanet / Lautaro Romero / Young Joo Lee
3D modeling – Edgar Romero / Volodymyr Khandoga / Young Joo Lee
3D architecture – Mike Kwok
Shelby's factory costume designer – Hye-Seon Jeon
RENEW logo designer – YoE
Post Production 
Editing – Young Joo Lee
Original Music – Hae Jin Kang
Sound design – Myeong Soo Hwang
Graphic designer – Jae Jin Lee
Special Thanks
Julio Parra Martinez
Bianca Boragi
Edward Columbia
Ao Li
Stine Dahlman
Jiwon Ham
Dahae Jun
Kenneth Hughes
Dorian Mains
Clara Murgui
Linda Franke
Sonali Prasad
Prima Sakundabhai
Lior Shamriz
Sponsored by:
Seoul Foundation for the Arts and Culture
Harvard Film Study Center