Magic Kingdom
2020
Video game
Dimension variable
**Can only be played on Chrome and Internet Explorer browser
Use the mouse to look around.
Use arrow keys to move around the space. You can jump using the space bar.
Knocking down the perfume bottles will reveal stories from the Magic Kingdom.
Be careful not to touch the money that is not yours.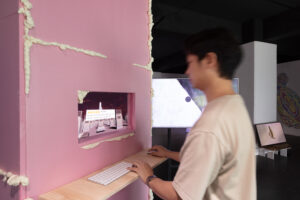 SUCCESS
2020
Perfume, styrofoam, acrylic glass
33 × 33 × 140cm
During the exhibition, the perfume was sprayed twice everyday on the cement copy of the perfume bottle.